← Back
Helen Levitt: South of Union Square Poet Laureate of Photography
A visual poet laureate of life in the streets of New York City, Helen Levitt (August 31, 1913 – March 29, 2009) and her wondrous photographs captured the playful dance of urban life. Her favorite subjects were the people she encountered on her neighborhood streets. Given the unique characteristics of her subjects, it is no surprise that Levitt lived and photographed most of the years of her life right here in our neighborhoods. She lived in a fourth-floor walk-up rowhouse at 4-6 East Twelfth Street for over 40 years until her death at the age of 95.
Born in 1913 in Bensonhurst, Brooklyn, Helen Levitt became intrigued with the transitory chalk drawings that were part of the New York children's street culture of the time while she was teaching art classes to children in the mid-1930s. She purchased a Leica camera (with a right-angle viewfinder) and began to photograph these chalk drawings, as well as the children who made them.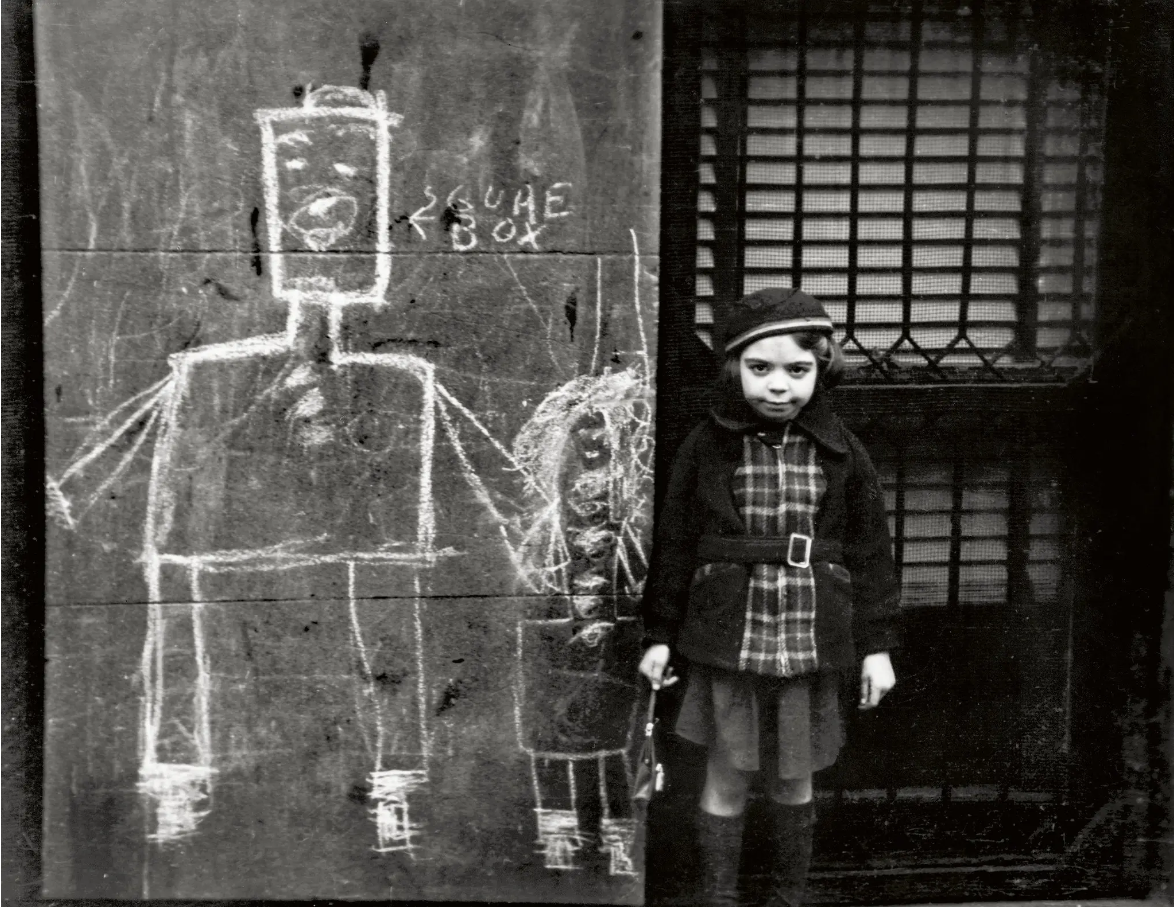 New York City's doorways, storefronts and cascading fire escapes were the grand backdrop to Levitt's photos. She rambled about the city's streets with little more than the handheld camera and a wondrous, reverent eye. She immersed herself in her surroundings, cultivating deep respect and adoration for the working class people and mischievous children that were both her subjects and her neighbors. Her depiction of street life blended the poetic and the political.
In her own words "…I decided I should take pictures of working class people and contribute to the movements," she said. "Whatever movements there were — Socialism, Communism, whatever was happening. And then I saw pictures of Cartier Bresson, and realized that photography could be an art — and that made me ambitious."
The street was a stage for her young subjects, upon which they played games, performed improvisational dramas, and made fantastic, untutored chalk drawings. For Levitt, graffiti and children's drawings were present-day emblems of a pre-civilized, magical art, both spontaneous and archetypal.
In 1939, her works were included in the inaugural exhibition of The Museum of Modern Art's photography department, where her 1939 image of children trick-or-treating received especially high praise.
Some critics felt that citing Levitt's photograph's lyrical qualities sold them short, overlooking her and their other important qualities. Walter Moser, art historian and chief curator for photography at the Albertina Museum, Vienna, who curated an exhibit of Levitt's work at Photographers' Gallery in London in 2021, wrote about Levitt:
"For too long, there had been this received notion that Levitt's photographs are lyrical and poetic, words that are too often applied lazily to the work of female photographers. The truth is that Levitt was part of a highly intellectual cultural and political milieu in New York in the 1930s and her photography reflected her deep interest in surrealism, cinema, leftwing politics and the new ideas that were then emerging about the role of the body in art."
Renowned figures such as Henri Cartier-Bresson, Walker Evans, and James Agee were among her cohort of admiring contemporaries and friends, but Levitt stood out from the crowd with her warm and discerning photographs. Depicting the urban whimsy of ordinary street life in the city, Levitt captured wondrous, seemingly impossible moments of the dance of life in the street and the unrestrained bonds of community.
"Helen Levitt's photographs seem to me as beautiful, perceptive, satisfying, and enduring as any lyrical work that I know. In their general quality and coherence, moreover, the photographs as a whole body, as a book, seem to me to combine into a unified view of the world, an insistent but irrefutable way of seeing, and in a gentle and wholly unpretentious way, a major poetic work of art." — James Agee, 1946
Levitt lived in New York City and remained active as a photographer for nearly 70 years. She has been called "the most celebrated and least known photographer of her time." She never married, living alone with her yellow tabby Blinky until, at the age of 95, she died in her sleep in her East 12th Street apartment in 2009, located in the neighborhood South of Union Square for which we are campaigning for landmark protections (you can help here).
The life and work of Helen Levitt will be on display in September as part of our 2022 Annual Benefit: VILLAGE VOICES. Our benefit will feature an engaging installation of exhibit boxes displayed throughout our neighborhoods featuring photographs, artifacts, and recorded narration that will provide entertaining and illuminating insight into the momentous heritage of the Village.