← Back
#SouthOfUnionSquare, the Birthplace of American Modernism: Joann Gedney
"South of Union Square, the Birthplace of American Modernism" is a series that explores how the area south of Union Square shaped some of the most influential American artists of the 20th century.
The neighborhood south of Union Square, which Village Preservation has proposed be designated an historic district, has attracted painters, writers, publishers, and radical social organizations throughout the 20th century. The neighborhood birthed a namesake social realist art movement — the Fourteenth Street School — and later hosted a number of influential artists and movements like Abstract Expressionism, the Ninth Street Five, and "The Club." Art, politics, industry, commerce, the New York elite, and the working class collided to create an eclectic culture and built environment in this neighborhood that helped shift the center of the global art world to New York City.
Joann Gedney (March 16, 1925 – June 20, 2013) was a trailblazing Abstract Expressionist painter and sculptor who played an integral role in elevating the cultural prominence of the Tenth Street Galleries by co-founding March Gallery in 1957. Born in East Orange, New Jersey, Gedney moved to a loft at 37 East 8th Street in 1947 and became enmeshed in the Abstract Expressionist movement. Gedney was determined to pursue a life of creativity: "I will do it my way with or without a game plan. I want to be me," she wrote in her journals. She attended the Art Students' League, where she studied under Nahum Tschacbasov: "He taught me what art is, everyone learns from a fellow artist, not from academics: it's like a blood transfusion."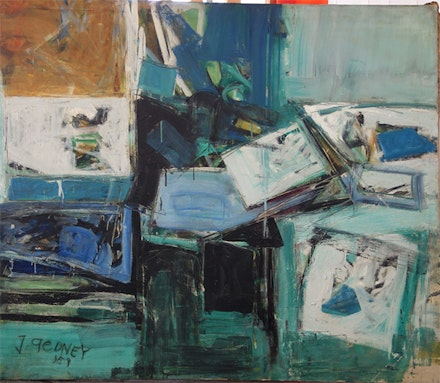 By 1950, Joann Gedney moved to 49 East 10th Street at the center of the New York School Abstract Expressionist world in New York. She frequented the Cedar Tavern and was heavily involved with The Club, all in the neighborhood South of Union Square. There she developed relationships with influential artists like Franz Kline. While she is left out of male-dominated narratives of the Abstract Expressionist movement, her involvement, independence, and influence are well documented. Gedney's paintings are composed of gestural brushstrokes, bold lines, and structural blocks of color. While her work is decidedly abstract, representation of the human figure and landscape is alluded to throughout her work. These paintings attest to her fascination with the expressive power of the human face and body. From her arrival in New York in 1947 until her death in 2013, Gedney continuously made art and was a fixture in the Village. Her last address in the neighborhood was 220 East 12th Street. For more information about the life and work of Joann Gedney, please consult the monograph Joann Gedney: Magnificent Obsession by Gregory de la Haba.
Village Preservation's proposed South of Union Square Historic District was named one of 2022-2023's "Seven to Save" — the biannual list of the most important endangered historic sites in New York State — by the Preservation League of New York State. This designation shines a spotlight on the incredibly valuable and varied architecture of this neighborhood, and its deep connections to civil rights and social justice history as well as transformative artistic, literary, and musical movements.
To learn more about the neighborhood, check out our new and frequently updated South of Union Square Map and Tours. We have received a series of extraordinary letters from individuals across the world expressing support for our campaign to create a historic district for the neighborhood South of Union Square. To help protect these incredible historic structures and other buildings in this neighborhood, click here.