← Back
Isamu Noguchi: Artist of the Century
He was one of the most significant, prolific, and versatile artists of the 20th century, and he produced several of his many iconic pieces from a studio located in a hidden Greenwich Village alley. We are referring to Isamu Noguchi, whose design work observed no boundaries. Drawing from influences as diverse as Italian marble work, Chinese ink-brush technique, Mexican large scale public works, and Japanese gardens and ceramics, he married the craftsmanship of a traditionalist with a modernist's appreciation for the power of abstraction and with a surrealist's sense for the allusive capacity of the incongruous. He developed through experimentation as much of a sensibility for manipulating the solidity of granite and the flexibility of balsa wood as for manipulating the fluidity of water and the rigidity of cast iron. He participated in fruitful and enduring collaborations with major artists across multiple disciplines, including music, dance, architecture, and sculpture. His spatial acuity allowed him to engage the relationship between objects and bodies moving in their environment at scales as different as stages and playgrounds. His creation found success in major art museums, in public space, and on the assembly line, so that, by the end of his career, his work graced dozens of cities, hundreds of art exhibits, and thousands of homes.
Noguchi was born on November 17, 1904 in Los Angeles to Léonie Gilmore, an Irish-American writer from Brooklyn, and Yone Noguchi, a Japanese poet who enjoyed some success in the United States and who decamped for Japan before Isamu was born. At Yone's invitation, Léonie moved to Japan with Isamu and, although she never resumed her relationship with Yone, remained in Japan for over a decade. She nurtured her son's artistic proclivities at an early age, allowing him to help supervise the construction of a family home at the age of 8, putting him in charge of the family garden, and allowing him to become a local carpenter's apprentice. When Isamu turned 13, his mother sent him to Indiana for school. He remained there through graduation, under the name of Sam Gilmore, and developed enough of an affinity for the state that he would regard himself a "Hoosier" for the rest of his life.
Upon graduation, Noguchi expressed a desire to become an artist to a mentor, who wisely advised him to become a doctor instead. Nonetheless, this advisor helped him get an apprenticeship with Gutzon Borglum, of Mount Rushmore National Memorial acclaim. By the end of the stint, Borglum told Noguchi that he'd never succeed as a sculptor. Discouraged, Noguchi enrolled at Columbia University, resigned to go the medical route after all. While at Columbia, however, he met famed bacteriologist Hideyo Noguchi (no relation), who encouraged him not to give up on his artistic aspirations. His mother, who had by then moved to New York and lived at 39 East 10th Street, also supported his ambitions and suggested sculpture classes. Noguchi followed her advice and, before long, was meagerly supporting himself by making portrait busts.
Noguchi's fledgling artistic career took its first of many fortunate turns when he won a Guggenheim Fellowship in 1926 to travel to Paris and elsewhere to study stone and woodcutting. Once in Paris, he managed to secure an apprenticeship with master sculptor Constantin Brâncuși, whose geometrically streamlined, abstract pieces would exert a great influence on Noguchi (and on an entire generation of sculptors).
After visiting several other countries during the remainder of his fellowship, Noguchi returned to New York and, on Brâncuși's recommendation, started frequenting Romany Marie's Café, a hotbed of bohemianism. There, he met several notable artists with whom he would collaborate over the years, such as Buckmister Fuller, with whom he designed the experimental Dymaxion Car, which was exhibited at the 1933/34 World's Fair in Chicago.
Despite his growing connections to the art world, however, and despite his numerous applications for public art commissions, Noguchi found little work during this period. He did, however, travel extensively abroad, in Europe, Mexico, and Asia, gaining exposure to a wide variety of work in several media — something that would eventually bear fruit throughout his career.
Noguchi's rise to prominence began in 1940, with the completion of a critically acclaimed large scale stainless steel bas relief entitled News for the Associated Press Building in Rockefeller Center.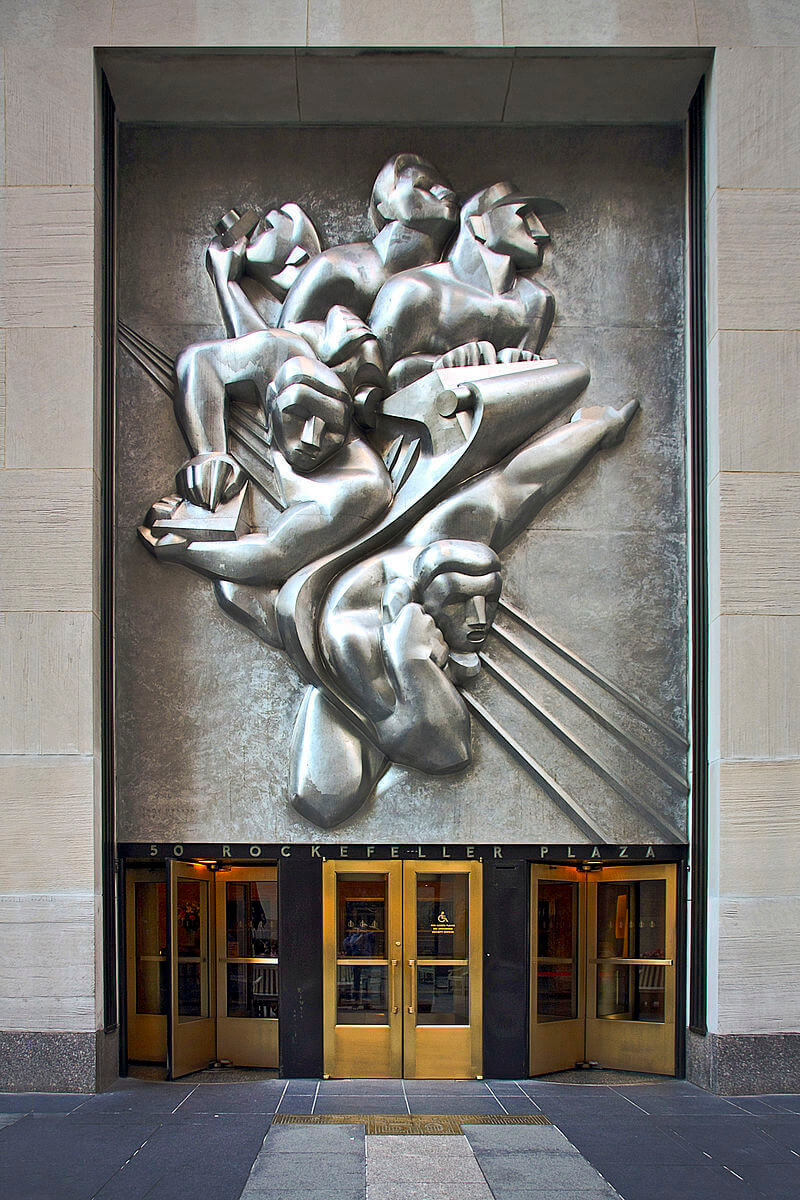 Shortly thereafter, however, he put his artistic career on hold to politically mobilize against the internment of Japanese-Americans during WWII, co-founding the Nisei Writers and Artists Mobilization for Democracy and voluntarily interning himself at a concentration camp in Arizona. During his time there, he was regarded with suspicion by both the camp administration, who saw him as a troublemaker, and by his fellow internees, who saw him as a spy (more on our Civil Rights and Social Justice Map).
His career resumed in New York, at a home studio in 33 MacDougal Alley, where Noguchi lived from 1942 through 1948, creating some of his most enduring sculptures. These notably included Kouros, a biomorphic assembly of interlocking stone slaps that formed part of a 1946 MoMa exhibition that further elevated his stature.
This show, along with the earlier success of News, fueled demand for his work, leading to public works commissions throughout the world and close to home (e.g., the Red Cube at 140 Broadway, one of his many prominent collaborations with architect and fellow one-time Greenwich Village resident Gordon Bunshaft) and giving him greater freedom to pursue his artistic interests. Those interests involved a wide range of collaborations with luminaries such as master choreographer George Balanchine, master architects Louis Kahn and Kenzo Tange, and master stone carver Masatoshi Izumi, as well as with some of the most prominent artists based in our neighborhoods. These included choreographers Erick Hawkins and Merce Cunningham, musician John Cage, and especially Martha Graham, with whom he forged a strong, decades-long working relationship that resulted in over twenty productions. He was quoted as saying, "I felt that I was an extension of Martha and that she was an extension of me."
Incredible though it may seem, Noguchi's accomplishments in the numerous fields described above constitute only part of his legacy. He also made a splash in the world of industrial design, creating Radio Nurse, the first electronic baby monitor, for Zenith Radio Corporation in 1938, a by now eponymous glass-topped coffee table for Herman Miller in 1947, and, starting in 1951, the Akari light sculptures, a series of lamps modeled on the manufacture of traditional Japanese lanterns and umbrellas. Many of his creations remain in production and demand to this day.
By the time that Noguchi passed away in 1988, he had accumulated a long list of honors that aimed to recognize the enormity of his artistic contributions. The Noguchi Museum, which was designed by the artist himself and which is devoted to promoting an appreciation of his legacy, contains the largest collection of his work in the world and is located in Long Island City. But here in the Village, we still like to celebrate the fact that our neighborhood could provide a fertile ground for launching and advancing his trailblazing career.